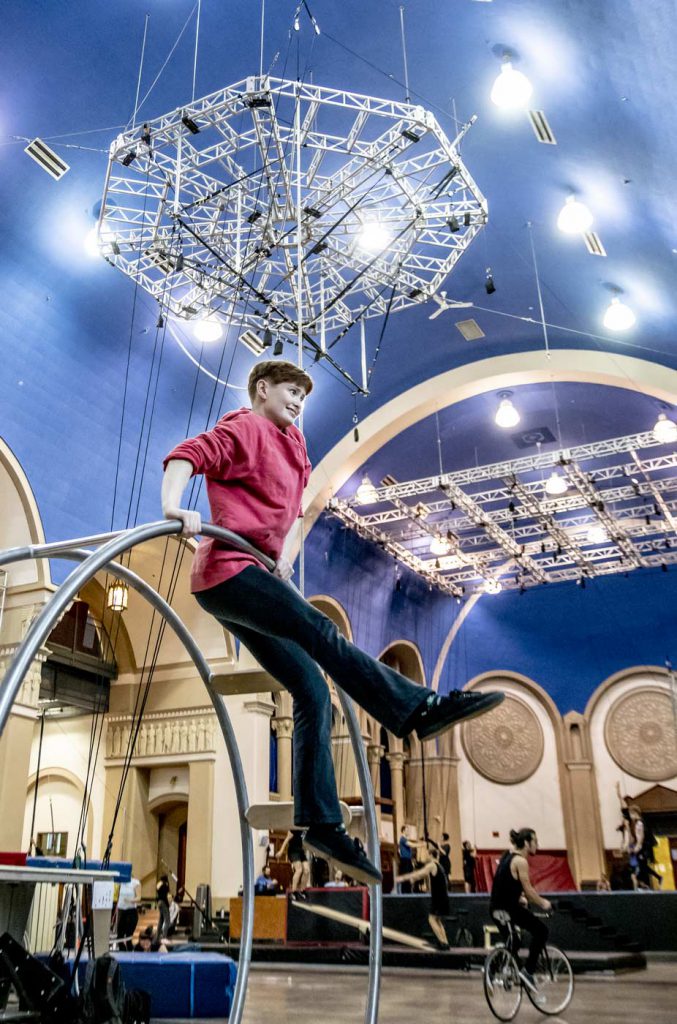 The winter workshop is offered to people aged 18 years old and over. Participants must have some acquired knowledge in circus arts (or in a high performance sport) on top of acquired knowledge in basic disciplines (acrobatics, handstands, flexibility and physical conditioning) and they are looking to further develop their skills in these fields.
The structure of this workshop is also suitable for those interested in registering for the auditions of the higher education programs (DEC & DEE), as it ends just before the first wave of these.

In addition to improving skills in the basic circus arts disciplines (acrobatics, balancing, flexibility and physical preparation), this workshop will allow participants to choose a specific discipline in which they wish to develop new skills.

Participants will also have the opportunity to discover certain artistic disciplines practiced in groups such as dance and acting.

Our winter workshops are not introductory or train-the-trainer workshops. You must already have a minimum of experience in circus arts or in a high performance sport in order to benefit from them.
Schedule
Monday to friday
Between 4:30 PM and 9:30 PM*
* Your main discipline could be offered to you during the day.
Duration
January 16th to February 17th, 2023
5 weeks
18 to 20 hours per week
*Note that the core discipline hours are one-third of the internship time.
Available disciplines (limited spots)
You can only choose 1 main discipline per workshop.
Aerials (lyra/hoop, straps, tissu/silks, aerial rope, dance trapeze, fixed trapeze) | Chinese hoops | Handstands | Tight wire | Juggling | Hand to hand* | Chinese pole | German wheel | Cyr wheel | Trampwall 
* Disciplines in duo are offered only to those who register with their partner.
*The disciplines offered may depend on the availability of the teachers" We will contact you if your chosen discipline is unavailable.

The disciplines will be confirmed as soon as all those interested in are registered.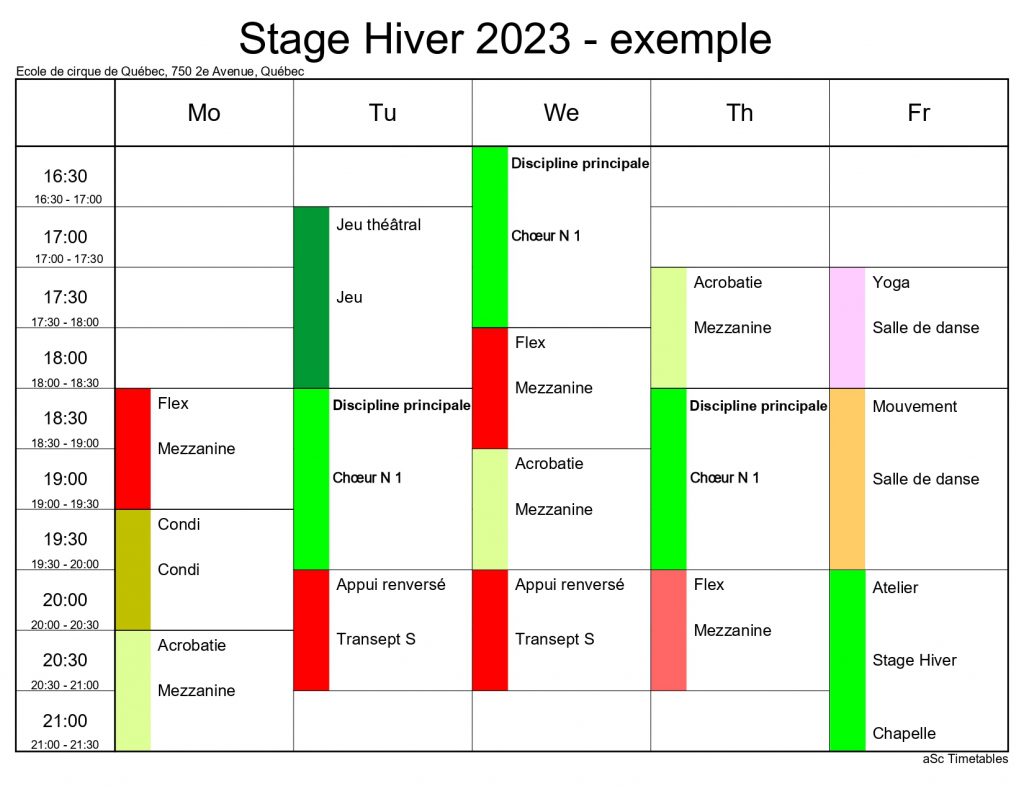 $ 1 725 CAD + taxes
The deadline for payment is December 2nd, 2022.
6 spots available
The registration and payment deadline is December 2, 2022.
We reserve the right to cancel courses if the minimum number of participants is not reached by December 2nd, 2022.
Registrations canceled before December 2nd, 2022 will be entitled to a full refund.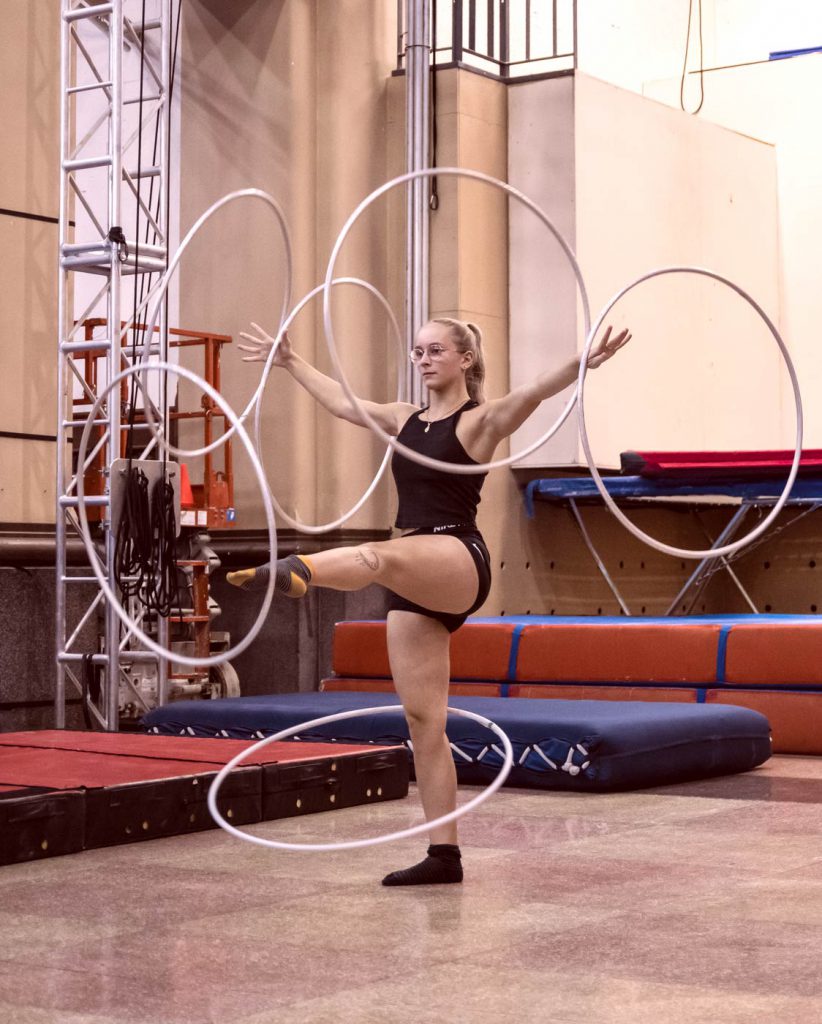 Create a Qidigo Profile (https://www.qidigo.com/login )
Upload a profile photo (must see face clearly)
Fill out a registration form about your experience, injuries, motivations, main discipline, etc.
Pay registration fees – Credit card only ; you can pay online through Qidigo
(To register to more than one workshop, you must add each desired workshops in your customer's basket on Qidigo before completing your purchase)
Once your file has been submitted and paid for, you will receive a confirmation email from ÉCQ 24 to 48 hours later. You can access your information and bills anytime through your Qidigo profile.
Please note that your Qidigo profile only allows you to select an address in Canada. You can use the School's one to complete this one. However, it is important that your full permanent address is entered on your personal form.
RUFUND POLICY FOR OUR SUPERIOR STUDIES' WINTER WORKSHOPS
Cancelation by École de cirque de Québec
If one of the workshop is canceled by ÉCQ, the registered participant will receive a full refund of his registration fees.
Cancelation by the participant – before the deadline
Any participant who cancels his registration to a workshop before the respective deadline of the workshop in question will be eligible to receive a full refund of his registration fees.
Cancelation by the participant – after the deadline
Any participant who cancels their registration for the course after the registration deadlines but before the start of the course will be eligible to receive a refund. However, an administrative fee of 20% will be deducted from the invoice.
Cancellation by the participant – after the start of the course
No refunds will be made, except in exceptional cases. Any cancellation request made after the beginning of the course will be subject to an evaluation.