SUMMER WORKSHOP | GENERAL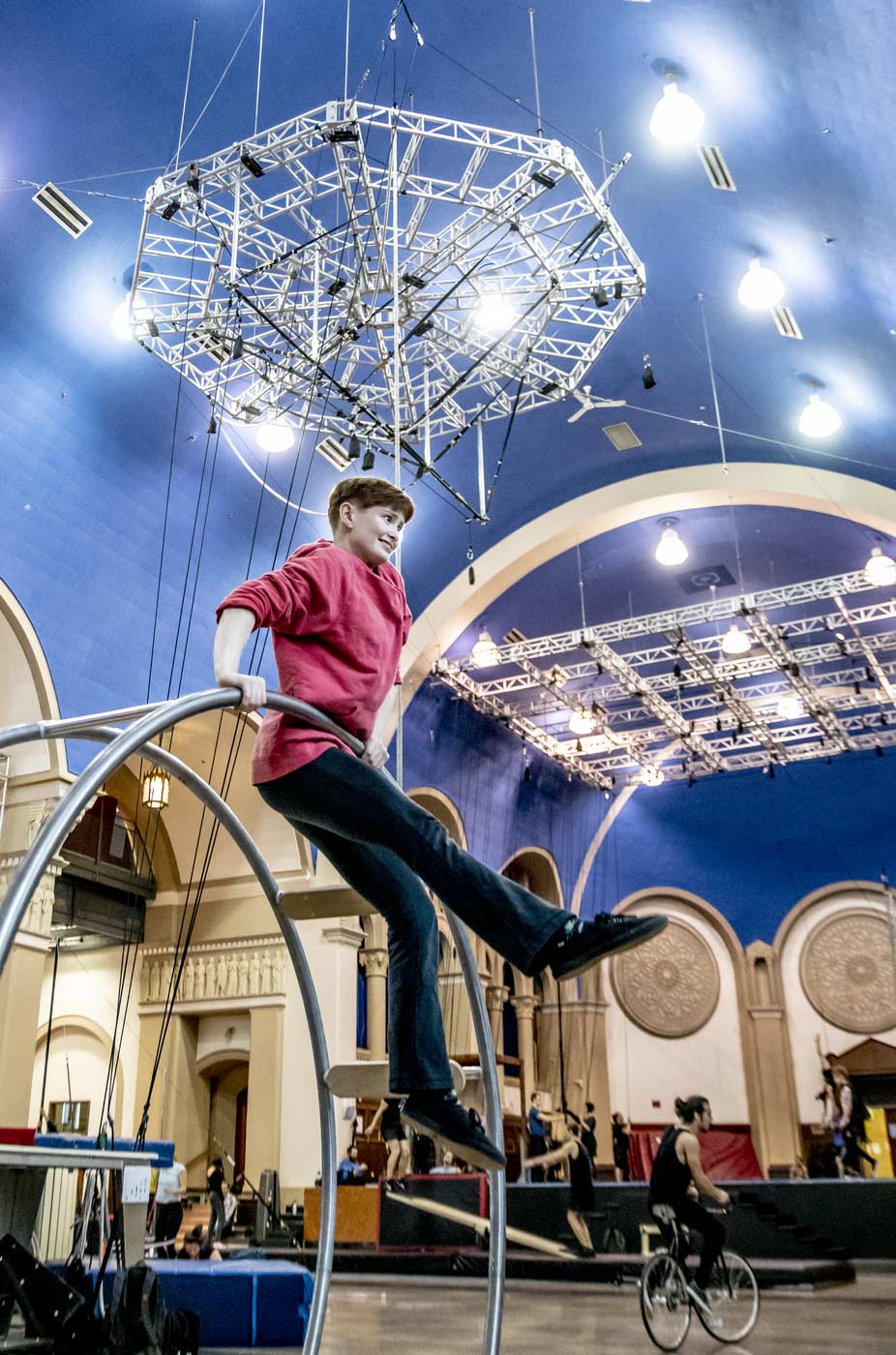 These Summer Workshops are offered to people aged 18 years old and over. Participants must have some acquired knowledge in circus arts (or in a high performance sport) on top of acquired knowledge in basic disciplines (acrobatics, handstands, flexibility and physical conditioning) and they are looking to further develop their skills in these fields.
Here is a preview of how each workshop is scheduled (per week):
7,5 hours in your main discipline

3 hours of acrobatics

2 hours of handstands

2 hours of trampoline

Physical conditioning (ex : flexibility, weight training, Pilates, yoga, etc.)

Various complementary workshops (ex. dance, theatrical acting, mime, flying trapeze, etc.)
Experience in circus arts*

Good physical shape & stamina
*Our workshops are not for beginners and they are not instructors' trainings. Candidates must already have some acquired skills in circus arts or in a high performance sport in order to take full advantage of these workshops.
Schedule
Monday to Friday
Between 8:30 AM and 6:00 PM

Duration
2 weeks per workshop
approximately 30 hours per week

Dates
Workshop  #1 : June 15th to June 26th 2020
* Holiday St-Jean Baptiste (June 24th)
Workshop #2 : June 29th to July 10th 2020
* Holiday Canada Day (July 1st)
Workshop #3 : July 13th to July 24th 2020
* Schedules are organized according to the holidays. Thus, it is possible that the time allowed for the main disciplines differs from the preview above.
Available disciplines (limited spots)
Aerials (lyra/hoop, straps, tissu/silks, dance trapeze, fixed trapeze) – Chinese hoops – Contortion – Free standing ladder – Handstands – Tight wire – Juggling – Hand to hand* – Chinese pole – Unicycle – German wheel – Cyr wheel – Trampwall – Acrobatic bicycle
* Disciplines in duo are offered only to those who register with their partner.
* You can only choose 1 main discipline per workshop.
Fees
$850 + taxes per workshop
$100 discount when you register for two consecutive workshops (4 weeks)
$200 discount when you register for three consecutive workshops (6 weeks)
12 spots available
Deadlines for registrations  :
Workshop 1 – May 15th 2020
Workshop 2 – May 29th 2020
Workshop 3 – June 12th 2020
We reserve ourselves the right to cancel any workshop if the minimum of 6 participants is not reached on the next day after the registration deadline of each workshop.
Registrations canceled before each workshops' respective deadline are eligible for a full refund. 
If one of the workshop is canceled by ECQ, the registered participant will receive a full refund of his registration fees.
Any participant who cancels his registration to a workshop before the respective deadline of the workshop in question will be eligible to receive a full refund of his registration fees.
Any participant who cancels his registration to a workshop after the respective deadline of the workshop in question will be eligible to receive a partial refund of his registration fees according to the numbers of days not used. In addition, there is an administrative fee of 10% which will be charged on the invoice.
Create a  Qidigo

profile

Upload a profile photo (must see face clearly)

Fill out a registration form about your experience, injuries, motivations, main discipline, etc.
Pay registration fees – Credit card only ; you can pay online through Qidigo
   (To register to more than one workshop, you must add each desired workshops in your customer's basket on Qidigo before completing your purchase.)

Once your file has been submitted and paid for, you will receive a confirmation email from ECQ 24 to 48 hours later. You can access your information and bills anytime through your Qidigo profile.
Please note that your Qidigo profile only allows you to select an address in Canada. You can use the School's one to complete your profile. However, it is important that your complete permanent address is included in your personal registration form.
L'école de cirque de Québec offers recreational and professional training activities. In addition, it encourages research, creation and produces and distributes shows for the general public.
Copyright © 2019 | École de Cirque